Keep it fun
Gambling is a hobby as old as time itself, enjoyed by millions across the globe in a leisurely way every day. We want our players to have fun playing with us, which is why we promote responsible gaming.
Responsible gaming
Responsible Gaming is the corner stone of our business, a solid foundation that we take very seriously. We know that gaming is not completely risk-free. For nearly all our customers, it adds diversion and excitement to their everyday lives. For a few, however, gambling might become problematic.
Tools
We have a number of tools to support our customers in gaming responsibly. The tools differ slightly according to brand and jurisdiction. Check out the Responsible Gaming pages of the particular brand for more information.
Tips
To help keep your gambling at a fun and safe level, we have collected some useful tips for you to think about. By understanding your gaming behaviour and putting yourself in the driver's seat, you limit the risks.
Want to know more about what we do and how we promote gambling in a fun and responsible way?
We engage
By collaborating with teams and individual athletes and entertainers, we engage with society and get involved. Our efforts to support sporting clubs, teams and events are a natural part of our love for sports. We are proud to be in the sports betting business and aim to offer our customers fair odds, terms and conditions. We are passionate about what we do and the industry we are in, which means our ambassadors get our full attention and warrant a fruitful partnership.

EKO Acropolis Rally (Greece)

Super League 2 (Greece)

Palermo F.C. (Italy)

US Salernitana (Italy)

AS Roma (Italy)

Sassuolo (Italy)

Torino FC (Italy)

Riga Football Club

Copa América Femenina 2022

Club Athletico Paranaense 2022 (Brazil)

Colo Colo (Chile)

CONMEBOL Copa América 2021

La Roja (Chile National Team)

Primer B (Chile)

AC Milan (Italy)

Liga1 (Peru)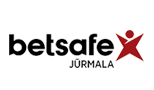 Betsafe Jurmala Basketball League

Estonian Football Association

Lithuanian Basketball Association

Lithuanian Basketball League

Danish 2nd Football League – NordicBet Liga