Malta Social Impact Awards 2021
For the fourth consecutive year, Betsson Group has sponsored the Malta Social Impact Awards (MSIA) which provide the required coaching, mentoring and funding for initiatives that address pressing social issues in Malta.
The awards took place on 27th March 2021 and were, for the first time ever, aired on Malta's national television, TVM. During the ceremony, three winners were chosen and awarded funding and additional non-financial support. MSIA brings businesses and philanthropists together to support local initiatives that have a positive social impact on Malta and help social purpose organisations grow into stronger entities.
Five finalists pitched their initiatives during the event, explaining their inspirational stories and how they will change lives with the funds they win. After deliberation, the panel of judges (including Betsson Group's CEO, Jesper Svensson) chose the 1st place winner. SMS voting then opened for the public to choose the 2nd and 3rd place winners from the remaining 4 finalists, and these winners were announced a day later on the Malta Social Impact Awards Facebook Page.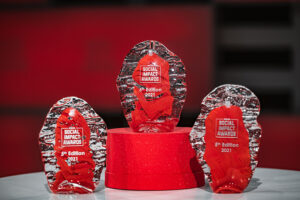 In 1st place, Charity Shops for the Community, an initiative by Inspire Foundation, was awarded their full requested funding of €50,000. The initiative seeks to create a more dignified way of shopping to help people at risk of poverty who may not be able to buy essential items. In 2nd place, Adopt a Grandparent by Missio Malta and Newsbook.com.mt, also won their full requested funding of €39,400. Adopt a Grandparent is an initiative aimed at pairing senior citizens within our community with caring individuals who touch base regularly to help the elderly feel loved and help combat loneliness and solitude. In 3rd place, Thrive Education and Wellness Farm by Thrive Malta won €4,600, part of their requested fund. Thrive Education and Wellness Farm is a wellness gardening programme that is aimed at improving mental and physical health – whilst enjoying nature and its therapeutic benefits.
Betsson Group was one of the main sponsors for these awards. All five finalists will be awarded non-financial support in the form of mentoring and pro bono services from leading businesses in Malta to help develop their initiative.
Since its launch in 2016, MSIA has awarded over €410,000 in grants to 16 organisations and over €115,000 in non-financial support and pro bono services to more than 60 participants who have been part of the mentoring programme with TAKEOFF Business Incubator at the University of Malta and Vistage. These initiatives have had an impact on the lives of thousands of individuals in Malta, from children to the elderly, migrants and disadvantaged groups, as well as people suffering from mental or physical health issues.
The MSIA Winners 2021
Charity Shops for the Community by Inspire (1st place winner)
This initiative seeks to work on its sustainability by professionally organising its retail operations and expanding INSPIRE Charity Shops around the island and creating a more dignified way of shopping to help people at risk of poverty who may not be able to buy essential items such as clothing, books, and household items from mainstream shops. [Facebook link]
Adopt a Grandparent by Missio Malta and Newsbook (2nd place winner)
Adopt a Grandparent is an initiative aimed at pairing senior citizens within our community with caring individuals who touch base regularly to help the elderly feel loved and help combat loneliness and solitude. [Facebook link]
Thrive Education and Wellness Farm by Thrive (3rd place winner)
This wellness gardening programme is aimed at improving mental and physical health – whilst enjoying nature and its therapeutic benefits. It aims to create an environment where individuals feel supported to connect to themselves, each other, and nature. [Facebook link]